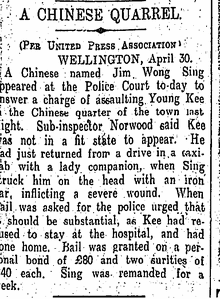 (PER UNITED PRESS ASSOCIATION)
WELLINGTON, April 30.
A Chinese named Jim Wong Sing appeared at the Police Court to-day to answer a charge of assaulting Young Kee in the Chinese quarter of the town last night. Sub-inspector Norwood said Kee was not in a fit state to appear. He had just returned from a drive in a taxi-cab with a lady companion, when Sing struck him on the head with an iron bar, inflicting a severe wound. When bail.was asked for.the police urged that it should be substantial, as Kee had refused to stay at the hospital, and had hone home. Bail was granted on a personal bond of £80 and two surities of £40 each. Sing was remanded for a week.[1]
---
↑ Date: 2-5-1910. (1910, February 5). A CHINESE QUARREL (Otago Daily Times 2-5-1910). Retrieved 14 January 2018, from https://natlib.govt.nz/records/32507467
Categories
Map
Scroll and zoom on the map to explore locations in Wellington of significance to the Wellington Chinese community.
Note: Number in black (eg: 8) indicate more than one place of interest. Please zoom in to view.