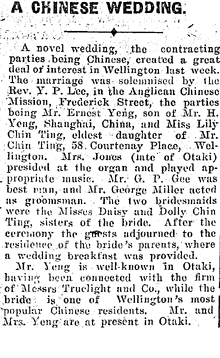 A CHINESE WEDDING.[1]
A novel wedding, the contracting parties being Chinese, created a great deal of interest in Wellington last week. The marriage was solemnised by the Rev. Y. P. Lee, in the Anglican Chinese Mission, Frederick Street, the parties being Mr. Ernest Yeng, son of Mr. H. Yeng, Shanghai, China, and Miss Lily Chin Ting, eldest daughter of Mr. Chin Ting, 58 Courtenay Place, Wellington. Mrs. Jones (late of Otaki) presided at the organ and played appropriate music. Mr. G. P. Gee was best man, and Mr. George Miller acted as groomsman. The two bridesmaids were the Misses Daisy and Dolly Chin Ting, sisters of the bride. After the ceremony the guests adjourned to the residence of the bride's parents, where a wedding breakfast was provided. Mr. Yeng is well-known in Otaki, having been, connected with the firm of Messrs Truelight and Co., while the bride is one of Wellington's most popular Chinese residents. Mr. and Mrs. Yeng are at present in Otaki.
---
↑ A Chinese Wedding. (1923, October 17). Otaki Mail, p. 3. Retrieved from https://paperspast.natlib.govt.nz/newspapers/OTMAIL19231017.2.10
Categories
Map
Scroll and zoom on the map to explore locations in Wellington of significance to the Wellington Chinese community.
Note: Number in black (eg: 8) indicate more than one place of interest. Please zoom in to view.
Community content is available under
CC-BY-SA
unless otherwise noted.