Ah Go was known to peacefully grow his crops on Section 715 on the 'lower reaches' of Tasman Street, Mount Cook, which had a small stream running through it. In 1890 the Wellington City Council proposed to culvert the stream, which would deny market gardeners in the area access to water. Compensation offered to Ah Go was a 3-inch water main service for three years. His counter claim, in which he sought a solution which would allow houses to be built in the area as well as retaining use as a market garden was rejected, with the Council agreeing to pay him £3 in May 1891, so that work on the culvert could begin immediately. It is likely that these such interactions with the Council forced Chinese market gardeners in the area to relocate. [1]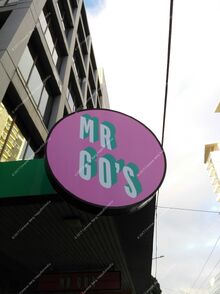 Mr. Go's Modern Asian Hawker Restaurant, which opened in late 2016 on Taranaki Street, pays homage to Ah Go's desire for Western settlers and Chinese market gardeners thriving side-by-side.[2]
↑ Cooke, Peter. 2006. "Mt Cook, Wellington - A History." Retrieved (http://mtcookmobilised.pbworks.com/f/MtCook_History-COOKE.pdf). Page 9
↑ Mr. Go's Modern Asian Hawker Restaurant, 2016, http://www.mrgos.co.nz/
---
Categories
Map
Scroll and zoom on the map to explore locations in Wellington of significance to the Wellington Chinese community.
Note: Number in black (eg: 8) indicate more than one place of interest. Please zoom in to view.