We're Getting Mutants in the MCU - The Loop
Play Sound
Anti-Chinese Meeting in Wellington.[1]
RESTRICTIVE LEGISLATION.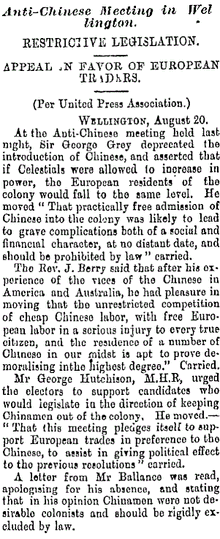 APPEAL IN FAVOR OF EUROPEAN TRADERS.
(Per United Press Association.)
At the Anti-Chinese meeting held last night, Sir George Grey deprecated the introduction of Chinese, and asserted that if Celestials were allowed to increase in power, the European residents of the colony would fall to the same level. He moved "That practically free admission of Chinese into the colony was likely to lead to grave complications both of a social and financial character, at no distant date, and should be prohibited by law" carried.
The Rev. J. Berry said that after his experience of the vices of the Chinese in America and Australia, he had pleasure in moving that the unrestricted competition of cheap Chinese labor (sic), with free European labor in a serious injury to every true citizen, and the residence of a number of Chinese in our midst is apt to prove demoralising in the highest degree." Carried.
Mr George Hutchison, M.H.R, urged the electors to support candidates who would legislate in the direction of keeping Chinamen out of the colony. He moved. — "That this meeting pledges itself to support European trades in preference to the Chinese, to assist in giving political effect to the previous resolutions" carried.
A letter from Mr Ballance was read, apologising for his absence, and stating that in his opinion Chinamen were not desirable colonists and should be rigidly excluded by law.
---
Categories
Help support the Wellington Chinese History project:
Map
Scroll and zoom on the map to explore locations in Wellington of significance to the Wellington Chinese community.