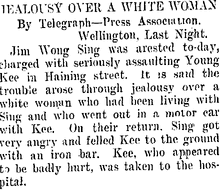 By Telegraph—Press Association. [1]
Wellington, Last Night,
Jim Wong Sing was arrested to-day, charged with seriously assaulting Young Kee in Haining street. It is said the trouble arose through jealousy over a white woman who had been living with Sing and who went out in a motor car with Kee. On their return. Sing got very angry and felled Kee to the ground with an iron bar. Kee, who appeared to be badly hurt, was taken to the hospital.
---
↑ Taranaki Daily News. (1910, April 30). Chinese Assault Case. Retrieved from https://paperspast.natlib.govt.nz/newspapers/TDN19100430.2.46
Categories
Map
Scroll and zoom on the map to explore locations in Wellington of significance to the Wellington Chinese community.
Note: Number in black (eg: 8) indicate more than one place of interest. Please zoom in to view.
Community content is available under
CC-BY-SA
unless otherwise noted.