History
The Chee Kung Tong Chinese Freemasons (Wellington Chinese Masonic Society Inc)
was established in 1907 as the New Zealand branch of the Hung League (itself an offshoot of the Yee Hing Secret Society), an international Chinese movement founded in the 17th century to overthrow the Manchurian Qing Dynasty
[1]
. Chee Kung Tong located in
81
Vivian Street
[2]
, and was later located at
23
Frederick Street
, this is one of only three remaining buildings from the original
Chinatown
which remains standing today.
[3]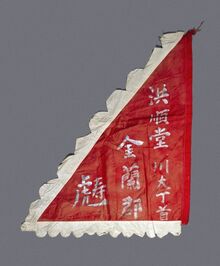 The building was opened on 10 October 1925
[1]
. Following a procession (for which
permission was sought
) from 81
Vivian Street
to the new hall
[2]
, fireworks were set off
[2]
, and the gala event was attended by "the Mayor and Archdeacon of Wellington, a cabinet minister and a 'high office bearer of the Wellington Grand Lodge Masonic Order'" was held
[1]
. The building is considered by the Wellington City Council of having cultural significance to the Chinese community.
[3]
Chee Kung Tong in Wellington was known for being philanthropic, and membership appealed mainly to "average Chinese", including miners, merchants and market gardeners.[1]
Senior office holders would often speak at events of significance to the Chinese community, including Double Tenth celebrations, such as that held in 1922.
New Zealand branches of Chee Kung Tong were formally disbanded in 1975.
[1]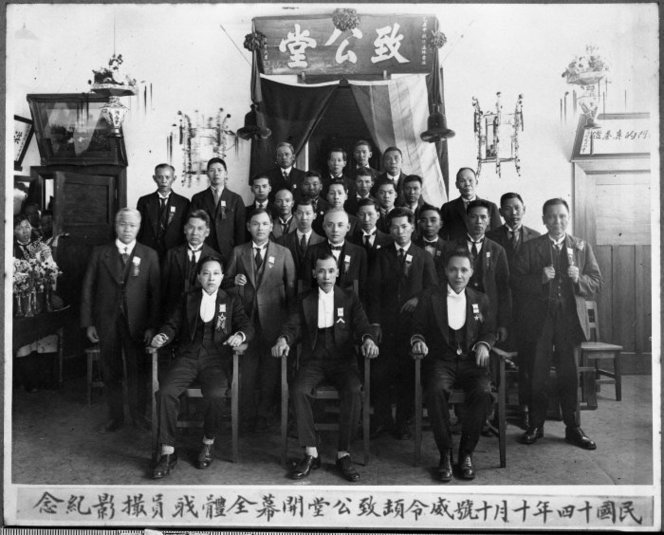 Wellington Chinese Masonic Society Incorporated building (July 2017)
↑ 1.0 1.1 1.2 1.3 1.4 The Australian & New Zealand Masonic Research Council. (2002). Chinese Masonic Society. Retrieved July 11, 2017, from http://www.freemasons-freemasonry.com/chinese-masonic-society.html
↑ 2.0 2.1 2.2 Wellington City Council Archive. (1925). Procession through streets - Wellington Chinese Masonic Society - Wellington City Council Archives, 00233-1925/2194. Retrieved 2 July 2019, from Archives Online website: https://archivesonline.wcc.govt.nz/nodes/view/101929
↑ 3.0 3.1 Wellington City Council. (2017 20–4). Wellington Chinese Masonic Society Building - 23 Frederick Street, Te Aro, Wellington. Retrieved July 11, 2017, from http://www.wellingtoncityheritage.org.nz/buildings/1-150/123-wellington-chinese-masonic-society-building?q=
---
Categories
Map
Scroll and zoom on the map to explore locations in Wellington of significance to the Wellington Chinese community.
Note: Number in black (eg: 8) indicate more than one place of interest. Please zoom in to view.
Community content is available under
CC-BY-SA
unless otherwise noted.