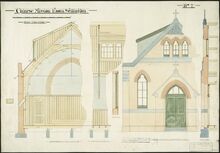 Located at 40-46
Frederick Street
, The Chinese Anglican Mission Church Hall is one of the few remaining (as of June 2017) original '
Chinatown
' buildings remaining, albeit this one is in a state of disrepair
[1]
.
Built in 1905 (Architect: Frederick de Jersey Clere), the Wellington Chinese Anglican Mission occupied this building for over fifty years, before moving in 1956.[1][2]
Much of the original façade remains, and although this building is not in a heritage area, it is considered to be a building of cultural significance to the Chinese Community.[1][3]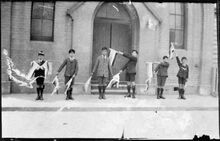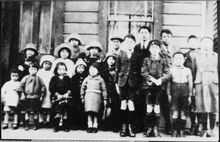 Wellington Anglican Mission Church Hall (July 2017)
Inside the Wellington Chinese Church Mission Hall. (March 2018.)
---
↑ 1.0 1.1 1.2 Chinese Mission Hall, Wellington Heritage, Wellington City Council, accessed 26 June 2017 from http://wellingtoncityheritage.org.nz/buildings/1-150/124-chinese-mission-hall?q=
↑ Clere, Frederick de Jersey, 1856-1952. Clere, Frederick de Jersey 1856-1952 :Chinese Mission room, Wellington 1905. Ref: Plans-80-0866. Alexander Turnbull Library, Wellington, New Zealand. https://natlib.govt.nz/records/22902204
↑ Wellington City Council. (2013). Thematic Heritage Study of Wellington. Retrieved 8 November 2017, from https://wellington.govt.nz/~/media/services/community-and-culture/heritage/files/thematic-heritage-study.pdf?la=en
Categories
Map
Scroll and zoom on the map to explore locations in Wellington of significance to the Wellington Chinese community.
Note: Number in black (eg: 8) indicate more than one place of interest. Please zoom in to view.
Community content is available under
CC-BY-SA
unless otherwise noted.