CHINESE FACTIONS IN WELLINGTON. [1]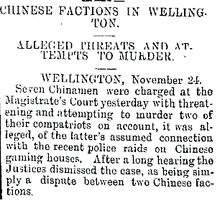 ALLEGED THREATS AND ATTEMPTS TO MURDER.
WELLINGTON, November 24
Seven Chinamen were charged at the Magistrate's Court yesterday with threatening and attempting to murder two of their compatriots on account, it was alleged, of he latter's assumed connection with the recent police raids on Chinese gaming houses. After a long hearing the Justices dismissed the case, as being simply a dispute between two Chinese factions.
---
↑ Chinese Factions in Wellington. Alleged Threats and Attempts to Murder. Nelson Evening Mail. November 26, 1900. Retrieved from https://paperspast.natlib.govt.nz/newspapers/NEM19001126.2.23.3.1
Categories
Map
Scroll and zoom on the map to explore locations in Wellington of significance to the Wellington Chinese community.
Note: Number in black (eg: 8) indicate more than one place of interest. Please zoom in to view.
Community content is available under
CC-BY-SA
unless otherwise noted.