We're Getting Mutants in the MCU - The Loop
Play Sound
b unknown (China) d 14 March 1904 (Mokopuna/ Leper Island, Wellington)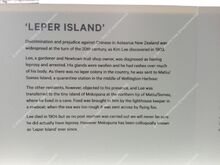 Kim Lee arrived in New Zealand in approximately 1893, and worked as a market gardener in the Hutt Valley and ran a fruit shop in Adelaide Road, Newtown from about 1895 to 1903.[1]
In February 1895, he was fined for opening his shop on the half-holiday of 6 February.[2]
On 11 July 1903, Kim Lee was reported to the Health Department on suspicion of having leprosy[1]. Despite trying to hide from Health Department officials, he was sent to quarantine of Matiu/Somes Island[1][3][4][5][6]. His stock of fruit and vegetables were destroyed.[1]
After complaints from other residents he was exiled to Mokopuna/ Leper Island, some 50 metres offshore from Matiu/Somes Island[1][3][4][5][6]. There he lived in a cave on the eastern side of the island[3], and was given wooden packing cases to make shelter and furniture from[1][3]. On fine days the lighthouse keeper would row out with supplies, and in rough weather the rice and fruit came via a flying fox[1][3].  It is believed that the other interns on the island actual objected to Kim Lee being Chinese, rather than his alleged leprosy.[1]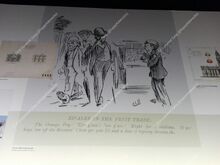 In February 1904, The Evening Post reported that "Since his confinement on the island the man has been well fed and exercised, and made to take daily baths in the sea, with the result that the leprous symptoms are gradually leaving him, and he is likely to be discharged cured[1]." However on 14 March 1904, Kim Lee died after nine months in quarantine and six months in exile on Mokopuna/ Leper Island[1]. He was buried there.[1]
There were doubts as to whether Kim Lee actually had leprosy: Modern medical opinion suggests he may suffered from tuberculosis or an auto-immune disease.[1] According to his death certificate he died of heart failure, an enlarged liver and acute renal failure.[1]
The Hastings Standard reported on 13 January 1904 that there were three Chinese detained on Matiu/Somes Island for having leprosy at the time. ----
Categories
Help support the Wellington Chinese History project:
Map
Scroll and zoom on the map to explore locations in Wellington of significance to the Wellington Chinese community.