Kim Lock was a silk merchant, who enrolled in the Wellington Salvation Army Corps in June 1925.[1][2][3]
Kim would be seen in the open air 'witnessing' to groups of Chinese in Cantonese in the Chinese quarter of Haining Street on Sunday afternoons.[1][2][3] In 1925 or 1926, he returned to China to preach in the district where he was born.[3]
Updates on his religious activities in China ceased for two years, until confirmation came from Salvation Army headquarters in China that Kim Lock and his companions had been taken outside one of the villages where they had been 'witnessing' and beheaded.[1][2][3]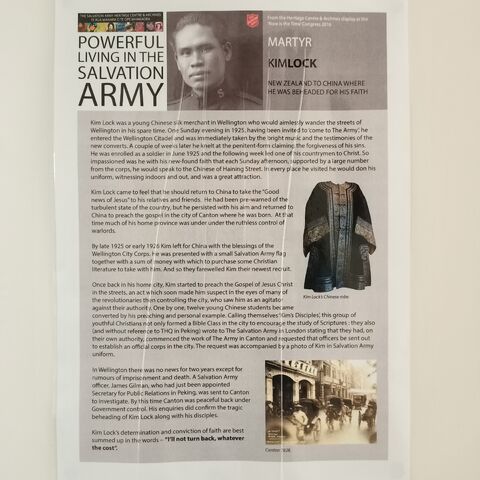 ---
Categories
Help support the Wellington Chinese History project:
Map
Scroll and zoom on the map to explore locations in Wellington of significance to the Wellington Chinese community.