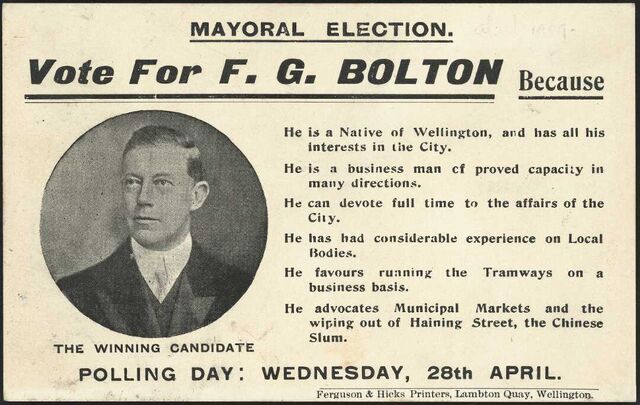 An election card featuring an inset circular head and shoulders portrait of Frederick Bolton, a candidate for the Wellington mayoralty. Reasons for supporting him include: He is a native of Wellington, a business man of proven capacity; he can devote full time to the affairs of the city; he has had considerable experience on local bodies; he favours running the tramways on a business basis; he advocates municipal markets and the wiping out of Haining Street, the Chinese slum.
Of the five Wellington mayoral candidates in 1909, Bolton scored the fewest votes, with a total of 616. The winning candidate was Alfred Kingcome Newman with 4523 votes.
Polling day was Wednesday, 28 April 1909.
Quantity: 1 b&w photo-mechanical print(s) on card.
Physical Description: Photolithograph on card, 90 x 142 mm.[1]
---
↑ Ferguson & Hicks (Firm). (1909, April 28). Mayoral election. Vote for F G Bolton, because ... Polling day, Wednesday, 28 April [1909]. Ferguson & Hicks Printers, Lambton Quay, Wellington. https://natlib.govt.nz/records/22873559
Categories
Help support the Wellington Chinese History project:
Map
Scroll and zoom on the map to explore locations in Wellington of significance to the Wellington Chinese community.