Previously known as Hotel Mayo[1], this hotel/ boarding house, located at 9-11 Marion Street, was purchased by the New Zealand Chinese Association in 1950, to be utilised as a private hotel for members until the 1980s.[2]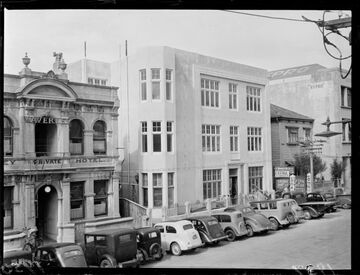 ↑ Alexander Turnbull Library. (1950, January 1). The New Zealand Chinese Association building. Retrieved September 9, 2017, from http://natlib.govt.nz/records/22901000
↑ Wellington City Council Me Heke Ki Poneke. (2017 22–6). Commercial Building - 9-11 Marion Street. Retrieved September 9, 2017, from http://www.wellingtoncityheritage.org.nz/buildings/151-300/209-commercial-building-9-11-marion-street?q=
---
Categories
Map
Scroll and zoom on the map to explore locations in Wellington of significance to the Wellington Chinese community.
Note: Number in black (eg: 8) indicate more than one place of interest. Please zoom in to view.