Jurassic World: Dominion Dominates Fandom Wikis - The Loop
Play Sound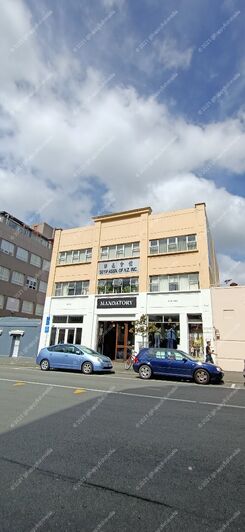 The New Zealand Seyip Association was founded in 1949 by the Chinese who immigrated to New Zealand from villages in the Guangdong province in Southern China[1]
Before the recent mass influx of new immigrants, the Seyip Association was one of three organisations to which nearly every Chinese person in New Zealand nominally belonged. Membership of these organisations (the Poon Far Association and the Tung Jung Association being the other two) was based on the geographical location of ones ancestral village in Guangdong province in southern China. The region covered by these three organisations was the main source of migrants not only to New Zealand but also to Australia, Canada and the United States during the Gold Rush and the period following, in a slow process of chain migration. There are local Seyip Associations in each of these countries.[2]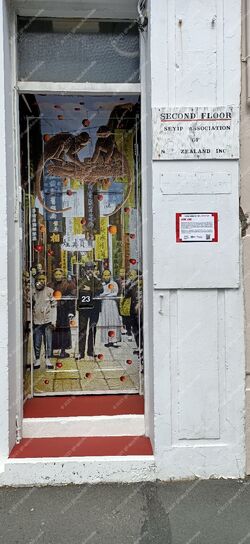 FIRST BUILDING
In 1929 the Seyip Clansmen's Library was set up in Wellington to look after the interests of Seyip people, but it was not until 1950 that a national organisation was born, and a building purchased. This building in Vivian Street formerly housed the Petit Lyon restaurant. In it, escalopes of pork fillet served on a bed of bok choy and field mushrooms with a soy, garlic and ginger is nothing new, it probably had a more humble name: pork chop suey. The dormitory was where the fine dining salon is now located and no doubt the guests, then as now, had to eat what was created by Chef - no choices.[2]
The Seyip Association building at 21-25 Ghuznee Street is part of a Wellington City Council Heritage walk.[3]
As part of the Chinese Zodiac Art Trail 2021, the door was decorated with a photo-collage by John Lake depicting "a glimpse into an historic 1910 scene from Guangdong / Canton city, through a postcard image showing a small crowd of people in a busy street, overlaid with two lucky golden monkeys imprinted from a Year of the Monkey Golden State Mint souvenir coin. Floating fruits reflect the market gardener professions of many in Wellington's Chinese community, with peaches representing longevity for the monkey zodiac sign."[4]
ADAPTING
Today, with members now well-established, there is little need for its welfare functions. The Association now has premises in Ghuznee Street which serves as a centre for fortnightly social gatherings. Members now have the time and the means to visit Seyip sister organisations around the Pacific basin, re-visit their ancestral homes to help the younger generation find their roots and participate at many levels of local community affairs.[2]
---
Categories
Help support the Wellington Chinese History project:
Map
Scroll and zoom on the map to explore locations in Wellington of significance to the Wellington Chinese community.