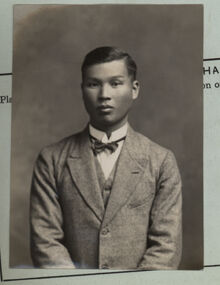 Ng Soon Wah (Born Sheung Jack), arrived in New Zealand aboard the Tahiti[1] in 1924[1]. His Poll Tax certificate for £100[1] was issued in Wellington on 23 June 1924[1]. He opened The Shanghai Restaurant with Joe Lai Choy. [2]
↑ 1.0 1.1 1.2 1.3 Archives New Zealand. (2018). Ng, Soon Wah (Born at Sheung Jack) - Age 27 - Arrived aboard Tahiti - Certificate issued in Wellington 23 June 1924 - Paid £100. Retrieved 20 November 2018, from http://ndhadeliver.natlib.govt.nz/delivery/DeliveryManagerServlet?dps_pid=IE17177232
↑ Chinese Voice 6 February 1997 issue http://www.stevenyoung.co.nz/index.php?option=com_content&task=view&id=65&Itemid=29
---
Categories
Map
Scroll and zoom on the map to explore locations in Wellington of significance to the Wellington Chinese community.
Note: Number in black (eg: 8) indicate more than one place of interest. Please zoom in to view.
Community content is available under
CC-BY-SA
unless otherwise noted.