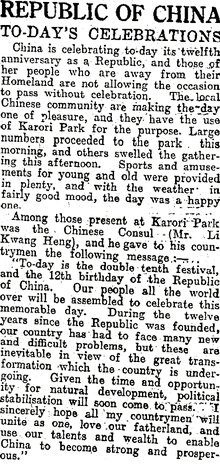 REPUBLIC OF CHINA[1]
China is celebrating to-day its twelfth anniversary as a Republic, and those of her people who are away from their homeland are not allowing the occasion to pass without celebration. The local Chinese community are making the day one of pleasure, and they have the use of Karori Park for the purpose. Large numbers proceeded to the park this morning, and others swelled the gathering this afternoon. Sports and amusements for young and old were provided in plenty, and with the weather in fairly good mood, the day was a happy one.
Among those present at Karori Park was the Chinese Consul (Mr Li Kwang Heng), and he gave to his countrymen the following message :--
"To-day is the double-tenth festival, and the 12th birthday of the Republic of China. Our people all the world over will be assembled to celebrate this memorial day. During the twelve years since to Republic was founded, our country has faced many new and difficult problems, but these are inevitable in view of the great transformation which the country is undergoing. Given the time and opportunity for natural development, political stabilisation will soon come to pass. I sincerely hope all my countrymen will unite as one, love our fatherland, and use our talents and wealth to enable China to become strong and prosperous."
---
↑ "Republic of China." 1923. Evening Post: 3. https://paperspast.natlib.govt.nz/newspapers/EP19231010.2.17.
Categories
Map
Scroll and zoom on the map to explore locations in Wellington of significance to the Wellington Chinese community.
Note: Number in black (eg: 8) indicate more than one place of interest. Please zoom in to view.