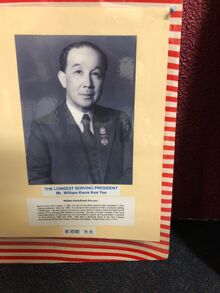 Born in Bark Shek village in 1885, William Kwok/Kwok Kee-yee was the son of one of three brothers who emigrated to New Zealand between 1892 and 1896. He arrived in New Zealand in 1901[1] on board the Monowai[1], eventually settling in Wellington. His Poll Tax certificate for £100 was issued on 19 December 1901[1]. He was a good businessman and community leader, being dedicated to the welfare of the Chinese New Zealand community. He was founder of the Tung Jung Association in 1925 and was the Association's longest serving president, a position he held between 1929 and 1948. He was also a dominant figure in the New Zealand Kuomintang and the New Zealand Chinese Association. William Kwok died in 1975.[2]
---
↑ 1.0 1.1 1.2 Archives New Zealand. (2018, March 21). Kwok, Kee (Born at Canton) - Age 18 - Arrived aboard Monowai - Certificate issued in Wellington 19 December 1901 - Paid £100 (R23675764). Retrieved 20 November 2018, from https://www.archway.archives.govt.nz/ViewFullItem.do?code=23675764
↑ Tung Jung Association of NZ. (2018). The Tung Jung Association of New Zealand - William Kwok/Kwok Kee-yee. Retrieved 4 July 2018, from http://www.tungjung.org.nz/index.php?option=com_content&task=view&id=25&Itemid=31
Categories
Map
Scroll and zoom on the map to explore locations in Wellington of significance to the Wellington Chinese community.
Note: Number in black (eg: 8) indicate more than one place of interest. Please zoom in to view.