Initially a laundry located 241 Willis Street[1], Wing Hing & Co later became a general store, located on Vivian Street,[1] opposite the Trades Hall[2], from 1947, until at least the late 1950s.[1]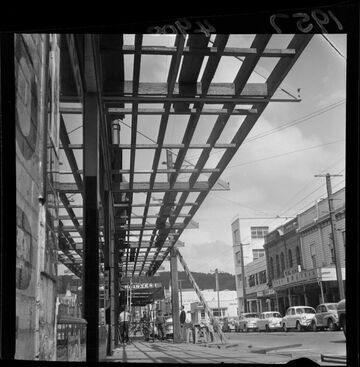 ---
↑ 1.0 1.1 1.2 Ng, J. (2007, July 22). Dr James Ng- Ng Fon and his family in New Zealand. Retrieved 9 November 2017, from http://www.stevenyoung.co.nz/index.php?option=com_content&task=view&id=145&Itemid=74
↑ Evening Post. (1957). Trades Hall under reconstruction, Vivian Street, Wellington. Retrieved November 9, 2017, from https://natlib.govt.nz/records/23017599
Categories
Map
Scroll and zoom on the map to explore locations in Wellington of significance to the Wellington Chinese community.
Note: Number in black (eg: 8) indicate more than one place of interest. Please zoom in to view.
Community content is available under
CC-BY-SA
unless otherwise noted.